Electronic Automatic Button Feeding Machine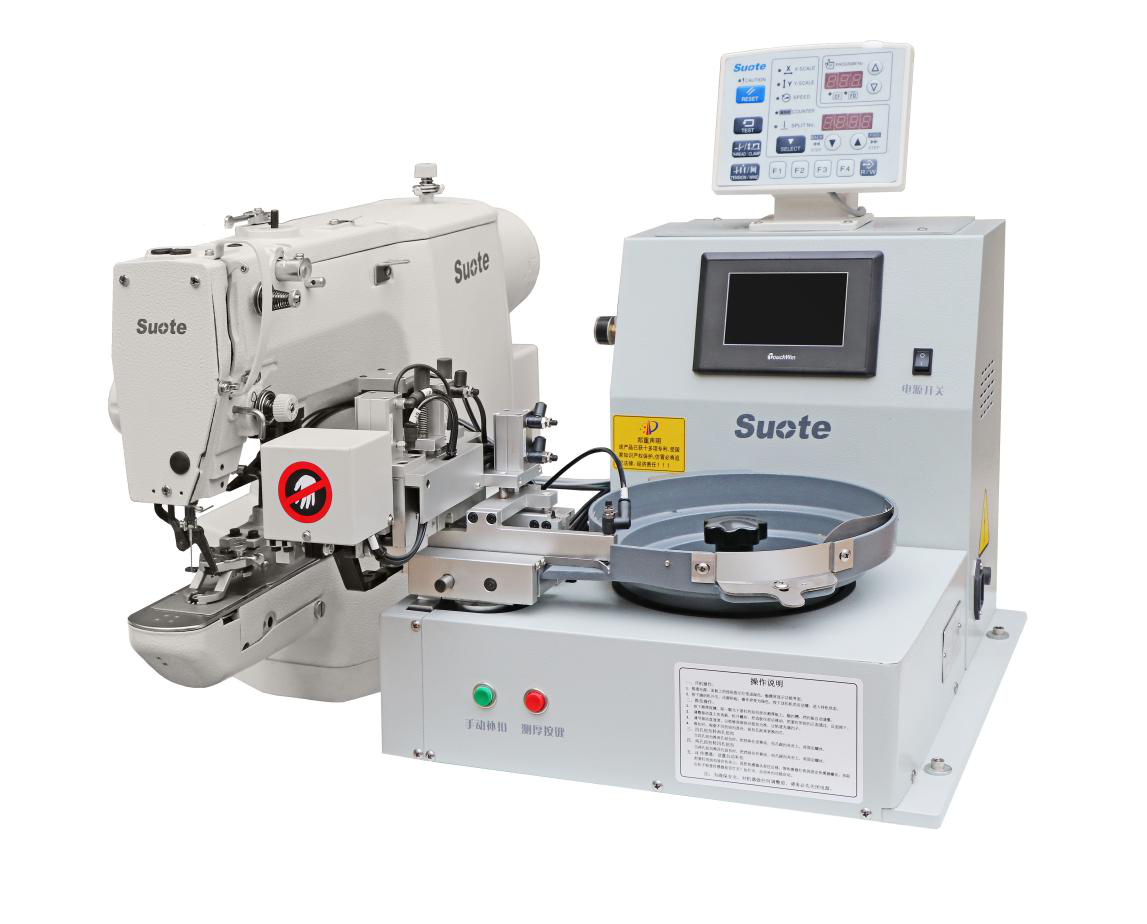 Introduction
· ST-8438D-868 automatic button feeding machine can perfect for using with ST-438D button sewing machine
· Sewing speed up to 120 buttons per minute
· Automatic or manual button feeding
· Touch screen operation
· can use for 4-holes buttons, 3-holes buttons, 2-holes buttons and some special buttons.
Feartures
Direct

drive

Lock

sttch

Button sewing
Typical Application

Multi-use
Specifications
ST-8438D-868
ST-8438D-868

Application

Button Sewing

Stitch formation

Single needle lockstitch

Max.Sewing speed

2700 rpm

Sewing area (X-Y)

Max. 6.4*6.4mm

Dimensions of buttons that can be sewn

Outer diameter of button 8-30mm*1

Feed mechanism

Y-θ intermittent feed mechanism (pulse-motor driven mechanism)

Stitch length

0.05-12.7mm

Max.No.of stitches

210,000 stitches(including 200,000 stitches which can be added)

Work clamp lifter

Pulse motor drive system

Work clamp height

13 mm Max.

Rotary hook

Shuttle hook

Thread wiper drive

Standard equipment

Thread trimmer drive

Standard equipment

Data storage method

Flash memory (any sewing pattern can be added using CF card)*2

Number of user program

50

Number of cycle program

9

Mumber of stored data

53 sewing patterns are set already

(Up to 200 patterns can be added.

Total number of stitches of stored data which can be added is within 200,000)

Motor

AC servo motor 550w
*1 use the optional button clamp B (S03634-101) for diameters of 20mm or greater
*2 the recommended CF cards are commercially-available ones from San Disk.
Sewing pattern list:
Delivery and Service:
· The machines have enough stock and can delivery within 7days.
· One year guarantee in mechanism parts except the quick-wear parts, three years guarantee in electronic parts.
Hot Tags: Electronic Automatic Button Feeding Machine, China, manufacturers, supplier, factory, made in China, best, for sale, brother type, buy, price, service, high quality, in stock