Automatic Welting Machine, Double Needle Lockstitch Head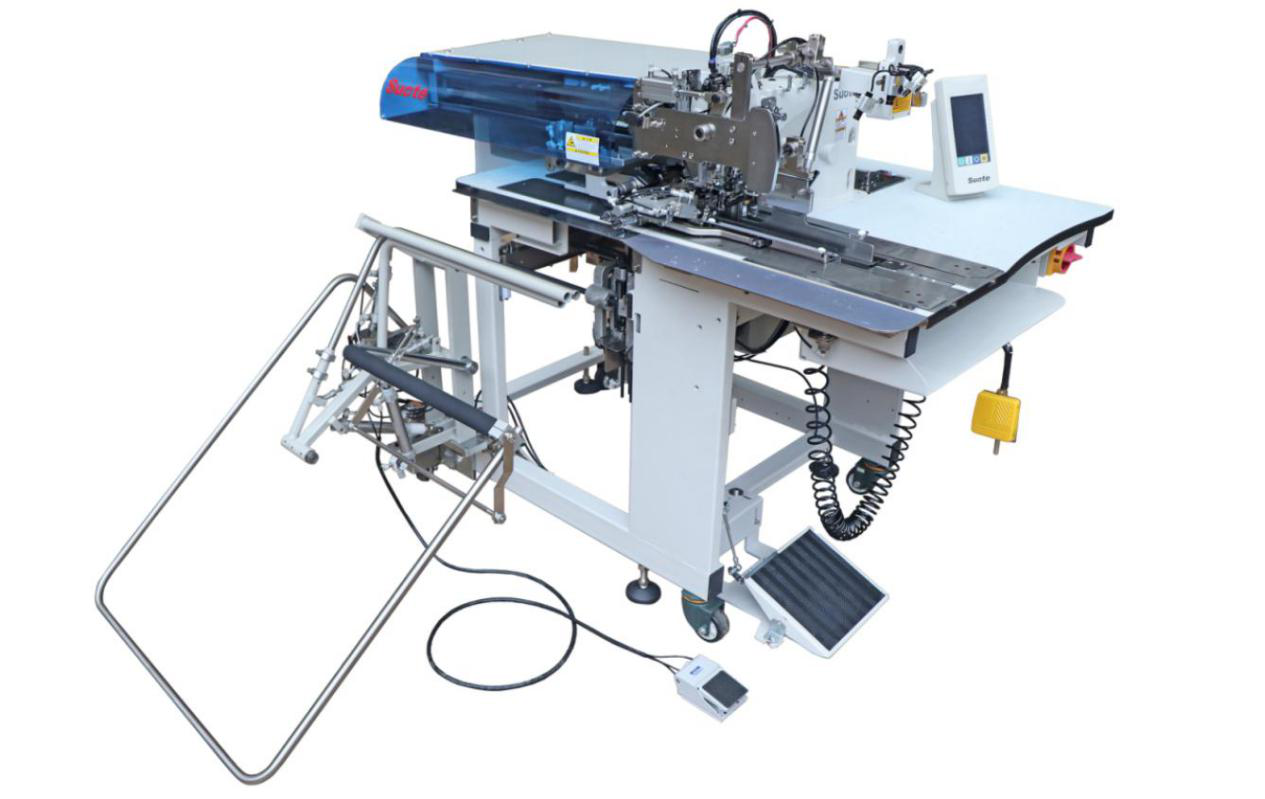 Introduction
· the machine supports the sewing of straight pockets (with flaps) or slanted pocket on suits, jackets and pants.
· Double / single welt sewing can be changed over by the simple touch of a key on the operation panel.
· Extended sewing length (18mm-220mm)
· Touch screen operation
Feartures
Typical Application
| | |
| --- | --- |
| | |
| Jacket / Suits | Pants |
Specifications
ST-895N
Model name

ST-895N

Sewing speed

Max. 3,000sti/min (1,000~3,000sti/min)

Kind of welts

Parallel double welt,

parallel single welt,

trapezoidal sewing (with/without flaps)

Stitch length (fastening stitching)

Condensation stitching: Standard 1.0mm (0.5~1.5mm)

Back-tack stitching: Standard 2.0mm (0.5~3.0mm)
Condensation / back-tack stitching

Corner-knife cutting adjusting method

Electronic adjustment

Number of independent sewing patterns

99 patterns (999 patterns when a CF memory card is used)

Number of cycle sewing patterns

20 patterns

Number of alternate sewing patterns

20 patterns

Sewing length (welt length)

Min. 18mm - Max. 220mm (settable in increments of 0.1mm)

*The minimum sewing size when the corner knives and the center knife are used: 21mm

*For a needle gauge width of 14mm or more, the minimum sewing length is 50mm

Needle gauge

8、10、12、14、16、18、20mm

Needle

DP X 17 (#16) #14 - #18

Machine head

2-needlelocks-titch machine
Delivery and Service:
· The machines have enough stock and can delivery within 7days.
· One year guarantee in mechanism parts except the quick-wear parts, three years guarantee in electronic parts.
Hot Tags: Automatic Welting Machine, Double Needle Lockstitch Head, China, manufacturers, supplier, factory, made in China, best, for sale, brother type, buy, price, service, high quality, in stock